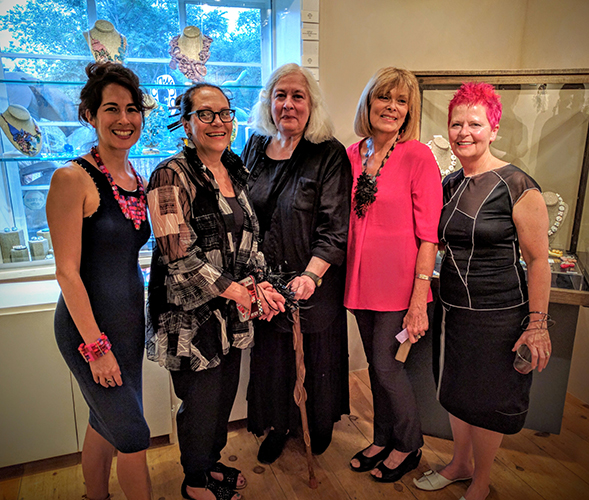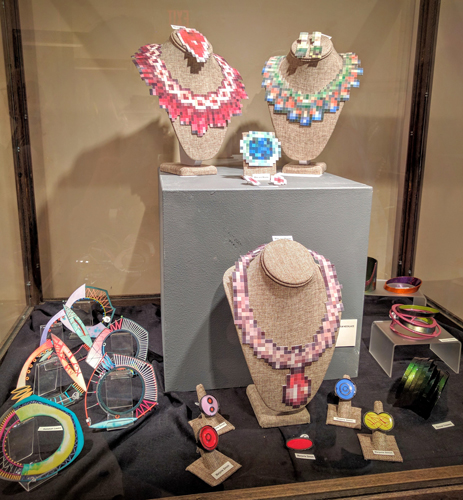 The perfect excuse for a Southwest roadtrip - attending the opening of Tansey Gallery's "An Exuberance of Color in Studio Jewelry," curated by Gail Brown. Gail was the first curator to show my work abroad, in England back in 2000 (while I was still making metal jewelry, pre LEGO® days), and has been an avid cheerleader & collector of my work and the work of many studio art jewelers over the years.
This exhibition truly is a reflection of her love for the field, with so many well-established and unique voices in the art jewelry world. Just to name drop a few that I was in company with in this show: Arline Fisch, Joyce J. Scott, Harriete Estel Berman, Bruce Metcalf, Don Friedlich, Rachelle Thiewes, Helen Shirk, Julia Barello. Whew!

Apparently August is Santa Fe is THE time to visit, local business owners calling it their "holiday season" with the Indian Arts and International art fairs that come through, epic Santa Fe Opera shows, and so many gallery openings and events. Plus the chiles! Turns out that many of the artists in this show had the same idea of making the trek to Santa Fe for the opening, so it was a welcomed reunion (it's a rare bird to see studio jewelers out of the studio scrubs and all dressed up, ready to party!).
Even though the show closed last week, the online catalog with bios, statements and images of all of the work is viewable for your pleasure on the web. Check it out here.
Looking forward to making a return trip - so many galleries and good eats. Did you know that Santa Fe was #2 in the amount of galleries, right after NYC! Woot! Of course every trip my husband and I take involves a culinary adventure, and Santa Fe did not disappoint. I was on a strict, vegan diet and our best meal the entire 3 weeks was at Rasa Kitchen and Juice. We went back 3 times in our 3 days! Where all the dishes are delicious, vibrantly healthy, and mindfully prepared in the most gorgeous presentation. Go there.