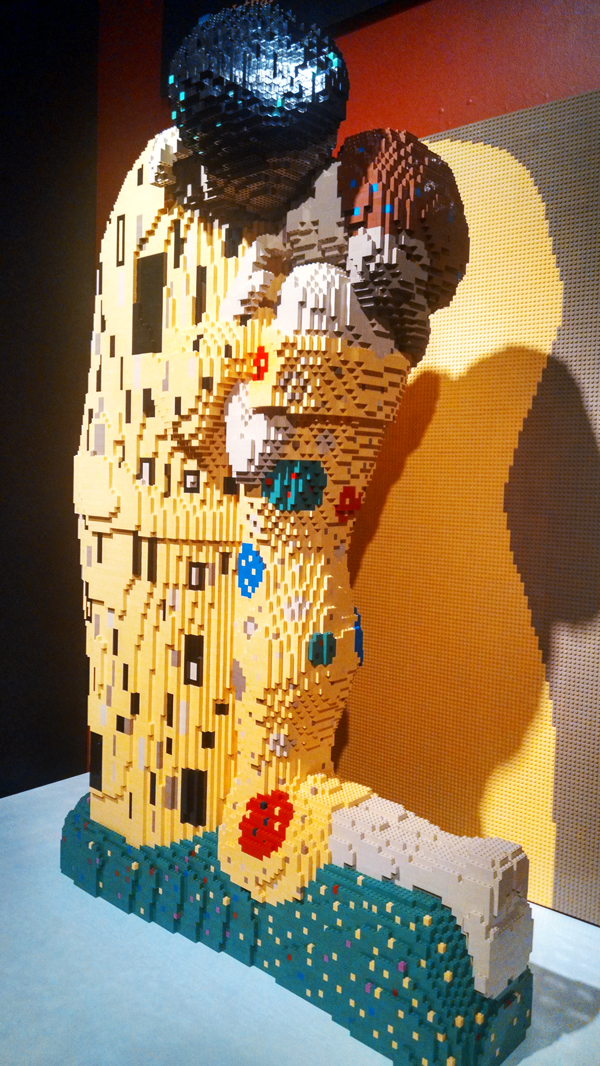 "Art makes better humans, art is necessary in understanding the world and art makes people happy. Undeniably, art is not optional." Nathan Sawaya, The Art of the Brick, NYC 2014
I can still relish the experience of being on a Meet The Makers panel for toy artists back in 2012 with the mighty and prolific LEGO® Master Builder, Nathan Sawaya (click here to see the video of our presentations). Talk about a LEGO® visionary! And how thrilled was I to spend an entire afternoon at the best art show in NYC last May, Sawaya's The Art of the Brick (see images). Some of my fav segments of the show were IN PIECES, Sawaya's collaborations with photographer Dean West to create large-scale tableau compositions (red dress above is a sculpture from one of the collaborations).
So you can imagine my delight when the curator of the Bedford Gallery at the Lescher Center for the Arts in Walnut Creek, CA, approached me this summer with interest in carrying my reware jewelry line in the gallery to coincide with The Art of the Brick exhibition this fall. What an ideal opportunity!

If you've got young LEGO® fans at home, bring them for a Halloween LEGO® - themed party with hands-on fun Oct 23, 2-5pm. OPENING RECEPTION is Thurs, Oct 8.
Go see this show, be inspired, and buy jewelry!

The Art of the Brick by Nathan Sawaya
& emiko o reware now featured in the gallery shop
Sept 29 - Dec 20, 2015

Bedford Gallery at the Lescher Center for the Arts
1601 Civic Dr
Walnut Creek, CA 94596